Here is WHY you Have to Consider a Roof Tent for your Subaru Forester
We all saw these beautiful Instagram shots with a Subaru Forester with an open roof top tent and an amazing landscape as a background. The Subaru plus roof tent combo really looks like the perfect overland solution! But is It? Can a Subaru safely hold a roof top tent? Are there any reasons to buy a roof top tent at all? Which RTT to choose? In this complete guide you will find everything you need to know about Subaru and roof tent!
Can you Put a Roof Top Tent on a Subaru Forester?
First things first. Can you even put a roof tent on your Forester? Simply: Yes. But you have to know why.
According to the owner manual of a Subaru Forester the total weight of the load fixed on the roof rails must not exceed 176lbs (80 kg) and overloading could damage the vehicle. But that is for a dynamic load, which means a rating for when the vehicle is moving.
When we are talking about Static load, the rating is obviously different… and higher! This time, according to Subaru of America, the Ascent, Crosstrek and Forester all have a roof rail capacity of 700lbs (317 kg) when the vehicle is parked on a level surface.
And that actually make sense! When you think about it, the pillars and the roof of your Subaru is supposed to keep you safe in case of a roll over in which case, it has to support the weight of the car.
So, with the roof top tents weighting around 90lbs (40 kg) and 150lbs (70 kg) depending of the brand and style, even if you add the crossbars weight, we can definitely say that you can safely put a roof tent on your Subaru Forester! And plus, you can sleep with two adults (and the pup!) with no problems.
And actually, this is what my girlfriend our cat and I did for several months, every day, during our big overland adventure across several countries with our Camper Subaru Forester. We had a blast and we didn't crush our roof!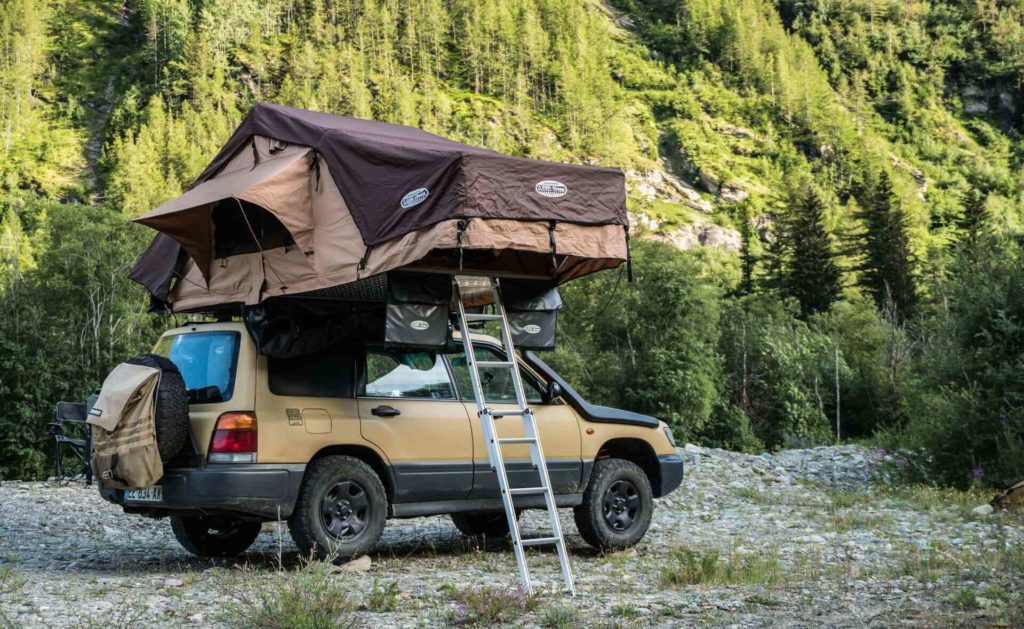 What do you Need to Mount your Roof Tent on Top of your Subaru?
With the fact that your Subaru can hold a roof tent in mind, I'm pretty sure that now you have another question: Do I need anything in particular to put my roof tent on my forester? Maybe something like crossbars, mounting brackets or hardware. Well, once again, let's have a look at the Subaru forester owner manual which say: When transporting luggage or loads, roof rails must always be used with crossbars or a roof rack. Never rest loads only on the rails. In addition to the fact that this would damage the roof and the paintwork, the risk of the load falling would be extremely dangerous. So YES, you need something to mount your roof tent on your Subaru!
The easiest way is gonna be to get 2 crossbars like the Thule Smartrack I run on my Forester. Yakima also provide great quality crossbars. About the roof top tent mounting hardware, you usually get some when your purchase your roof tent but they are pretty basic. You can upgrade them with, for example the Front Runner Tent Mount kit Or with the even better and more convenient Front Runner Quick Release Tent Mount Kit.
If you plan do more than just softroading and go off roading with your Subaru with the roof tent mounted, I suggest you to run 4 crossbars instead of just 2. That way, the loads will be nicely distributed and will prevent any failure while driving on tough terrain.
Another option to consider is to use a flat roof rack. You can check at the Yakima roof platform but Rhino Rack also have great flat roofracks. Plus, it will give you even more options to mount your roof tent on your forester, possibly an awning too but also, you will have extra space for recovery gear, a shovel, rotopax… Just like my setup (which work like a charm) detailed in the video down below:
9 Reasons you Should Buy a Roof Tent for your Forester
You have MANY reasons to get a roof tent for your adventures:
You sleep OFF the ground
It's quick and easy to setup
It's also quick and easy to pack
The mattress is already inside
All of your bedding can stay inside the roof tent
You can add an annex to it for extra room
It provides more room for your gear
It's rain & wind proof
The roof tent provides a safe feeling
You sleep OFF the ground:
The first one is that you sleep OFF the ground and that makes a huge difference! First of all, while looking for a camp spot you won't be restricted by rocky, muddy or uneven ground since the tent is on your roof and you can level your vehicle. Also, you won't be bothered by any animals or bugs while sleeping. Another benefit is that you won't have all the cold from the ground transferred to the bottom of your tent. That's a huge PRO!
It's quick and easy to setup:
Regardless of the style of your roof top tent, they are always quick and easy to setup. Thanks to their design it only takes a few minutes and that's really appreciable when you arrive late at camp, in the night or when you are tired.
It's also quick and easy to pack:
When It's time to leave the camp spot, they are also quick and easy to pack. I'm no gonna lie, the hard shell roof top tents are way easier and quicker to pack than the soft shell style roof tent because of all the extra fabric you have to tuck inside, and the cover you have to put in place. But since your tent is on the roof of your Subaru it's not all dusty, muddy, dirty or wet! And that is so much more convenient while packing.
The mattress is already inside:
No, you don't need to invest in an additional mattress or even bother to inflate and setup one at camp. In a roof top tent, it's already inside and just waits for you to take a nap!
All of your bedding can stay inside the roof tent:
Plus the mattress, you will be able to leave all of your bedding inside the roof top tent. This will save you a lot of setup time and also allow you to keep your blankets and pillows nice and clean instead of dragging them all the time in and out of your dusty Subaru camper…
You can add an annex to it for extra room:
One thing I really love with the roof tent on my forester is that I can add an annex to it. It's an extra room with four fabric walls (and even a floor!). We used it a lot for our cat during our overland adventure so I'm pretty sure it will be perfect for a dog too. In it, you can store some extra gear, cook or work if it's raining. It's also great for privacy if one day you end up in a crowded camp spot.
It provides more room for your gear:
You can see that in two ways. First of all, the space inside a rooftent is huge! Way bigger than a sleeping platform in a Subaru camper conversion. In it you will be able to get comfortable, bring all the gear you want like your laptop or tablet and with that space and comfort you can easily spend several days at the same camp spot (Yes, we did that several times while waiting for the heavy rain to stop!)
But also, with your sleeping platform and sleeping gear on top of your vehicle, you have ALL the inside of your Subaru dedicated for gear storage. And that solution really works well for us in our Forester. Plus, some RTT even have additional crossbars on it for extra roof storage.
It's rain & wind proof:
The roof top tents are usually made with a solid fabric, a rain cover, and an alloy frame. The hard shell tents have… an hard shell! and struts to keep them open. With these designs the rooftop tents are totally rainproof and windproof!  We never had a single drop of water inside our roof tent and went through crazy winds without any trouble.
The roof tent provides a safe feeling:
Another great thing about roof top tents, more relevant for people new to overlanding and car camping in general is that this kind of tent provide a safe feeling. It really feels like a little cozy home where you can safely sleep on both ears.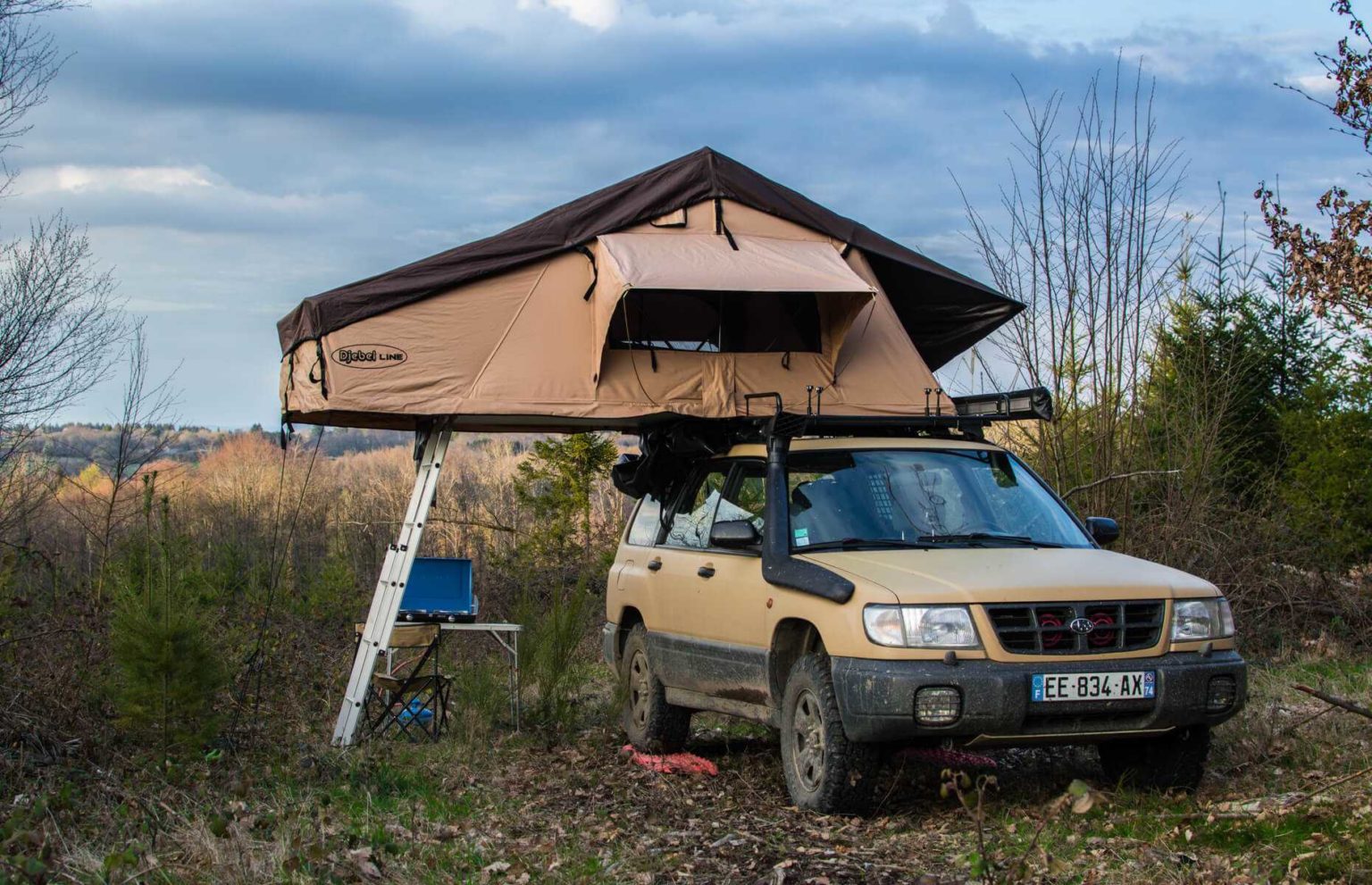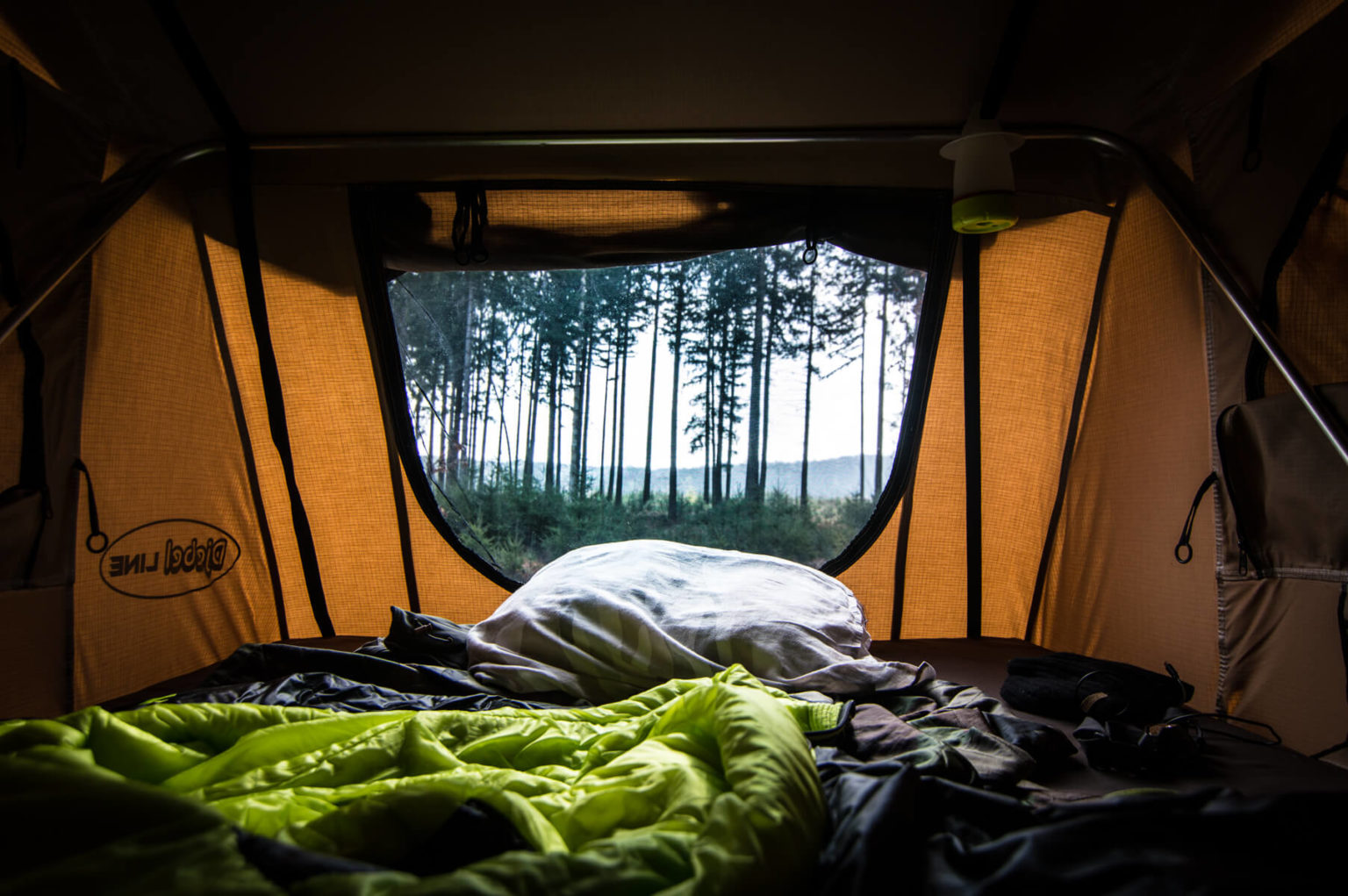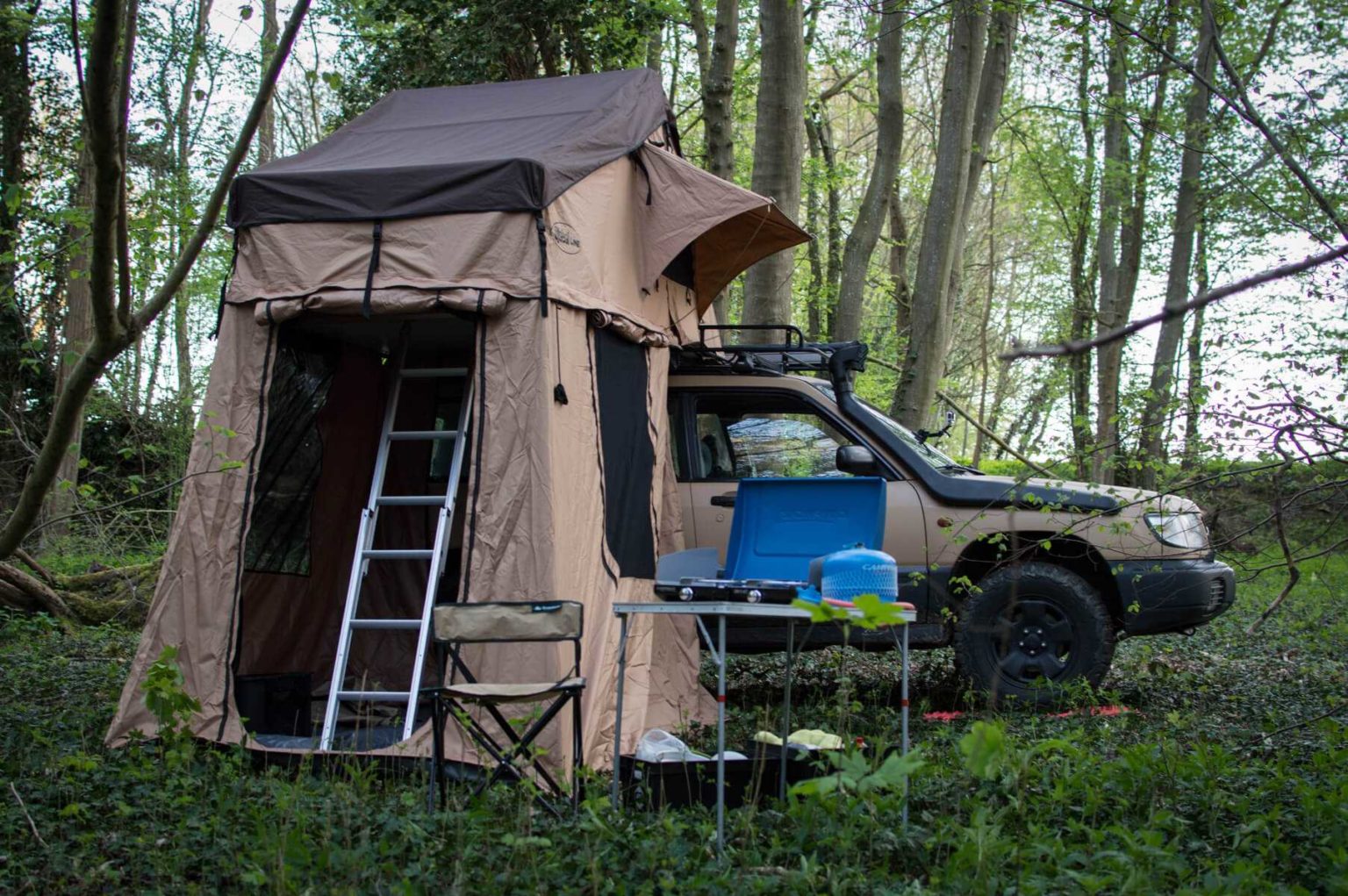 That was only 9 reasons to get a roof tent on your Subaru for your overland adventures. And trust me, there's more!
So even if the Subaru forester roof tent combo also have some cons we will go through in another article, you can't say that it doesn't have huge pros! And in this part, we talked several times about different styles of roof top tent. Let me give you some details about that now.
What is the Best Roof Top Tent to Buy for your Subaru?
As I said, there are two main designs of roof top tent: The Soft Shell roof tents, like the one I have on my Subaru forester camper and the Hard shell roof top tents. They both have pros and cons so let's start with that:
The Soft Shell roof tents are usually more spacious because when you open them you basically double its size. It's perfect if you go on overland adventures as a couple, as a family or with your pet. Also, they may look heavier but the truth is the opposite! They are usually lighter than an Hard Shell roof tent. The reason is they are just made of a floor, some fabric and a minimalist alloy frame: nothing big, no heavy materials. Being lighter, I think they are perfect roof tent for a Subaru! That being said, they also have some cons! The first one is the fact that they are longer to pack up rather the hard shells tent and the quantity of fabric make them pretty sensible to mold.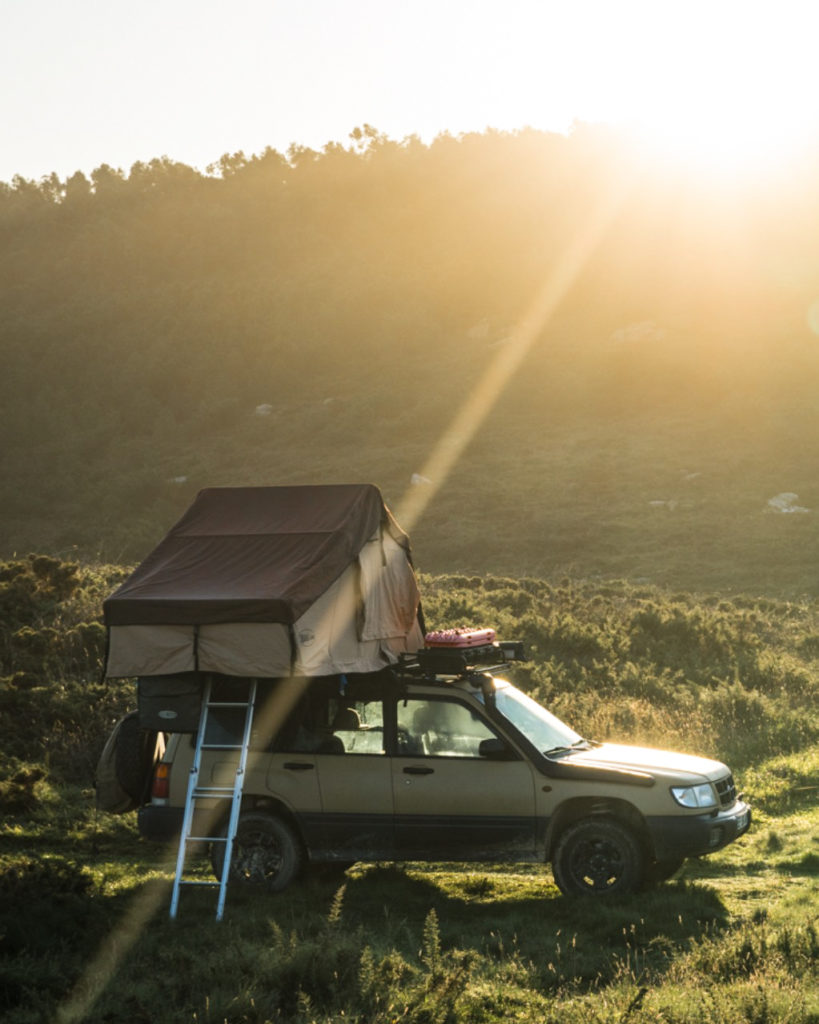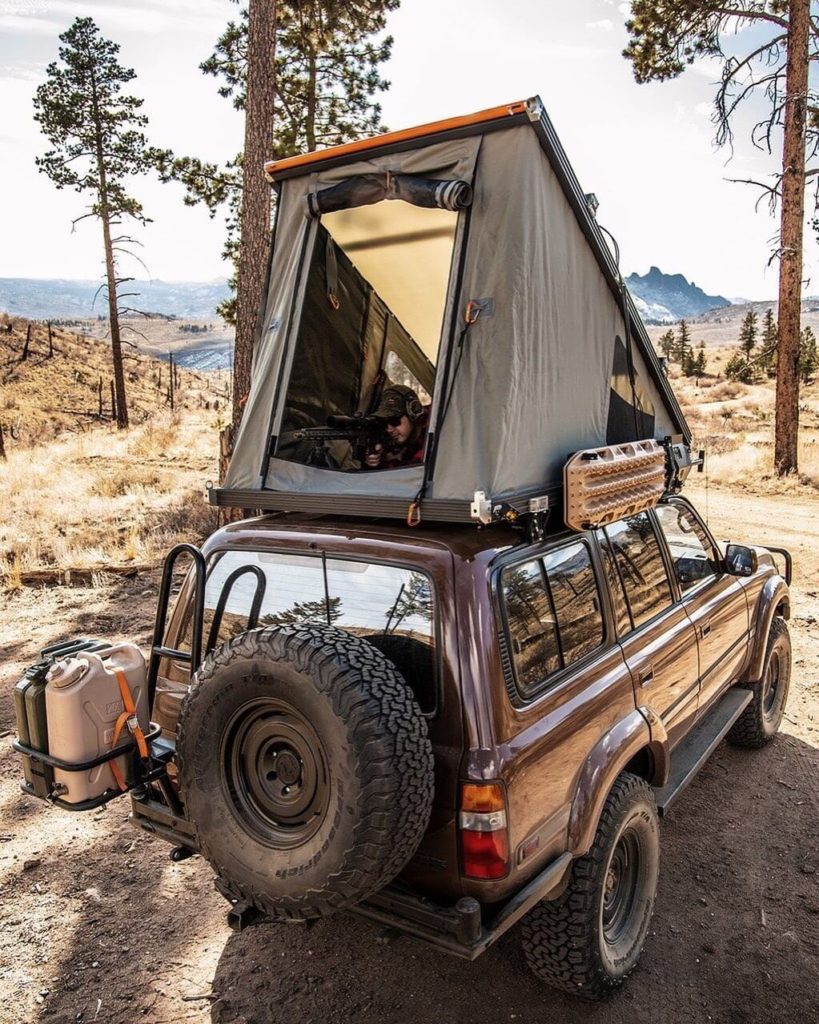 For exemple, you have on the left: My Djebel Xtreme Soft Shell Roof Top Tent on my Forester and on the right you have Mike's (Last Line of Defense) Hard Shell Roof tent on his Land Cruiser. You can definitely see the difference in design and space.
The Hard Shell roof tents are obviously gonna be less spacious because they open up on themselves and also heavier. But the setup and pack time is incredible! It's so easy that it literally takes only a minute! They are also more aerodynamic and will have less impact on your mpg. But if you put this type of roof tent on your Subaru you won't have the opportunity to use an annex on it and enjoy this extra room and privacy (Except for some designs like the iKamper Skycamp). A last but important thing: hard shell roof top tents are gonna be more expensive than a soft shell one.
So at the end, the style of roof top tent you are gonna choose for your Subaru or for any overland vehicle in general will depends of your setup, budget, preferences and utilization. But to help you here is a list of well-known and quality roof top tent brands:
So, Is a Subaru Forester and a Roof Tent The Perfect Overland Solution?
The Subaru Forster but also the outback and crosstrek are definitely good SUV for sofroading, overlanding or camper conversion and we saw that these Subaru can hold a roof tent without any problems.
The roof top tent itself is an awesome solution with a lot of pros. But also, with major cons which can be a no go for some of you. Also, keep in mind that you will need a few accessories to mount the roof tent on you Subaru like good quality crossbars and maybe a roof rack and some upgraded mounting hardware.
At the end, you really have to thoroughly check the pros and cons (and this video might really help you!) and decide If a roof top tent suits your preferences, utilization and goals. It's a really personal choice.
If you can't decide, what I recommend you is to get to the nearest overland or roof top tent shop and see and try by yourself. You can also ask for people who already have one to let you have a look at their roof tent. Or maybe even rent one for a week-end!
For me it's the perfect setup, I love my roof tent on my Subaru Forester because it's really spacious for me and my girlfriend, we have the annex if one day we need more space, shelter or privacy. Also, it leaves me enough space on my roof rack for recovery gear and I have the entire interior of my forester dedicated to gear storage.
That being said, now that I'm traveling more and more solo, I really start to consider a smaller hard shell roof tent for my Forester. If I go for it, it would be the perfect occasion for a more detailed soft shell VS hard shell roof top tent video and article!
Stay tuned!
Special thanks to Mike from Last Line of Defense for letting me use his aweome picture. You should definitely have a look at Mike's YouTube channel
Also some of the links are affiliate links, which means I earn a commision from qualifying purchases I really appreciate you using them since it helps support ALNSM Overland at absolutely no extra cost to you!
Loved the article? Share it on your favorite platform!