Subaru Forester Off Road Build: All the Best Mods
Is Subaru good for off road? YES! But to reach its maximum off road capacities you will have to make a few mods to your Subaru. I created this guide to help you build your dream off road Subaru with all the best mods! I'm gonna explain you how to modify your Subaru for off roading. From lift kit, to all terrain tires, suspensions and bumpers. You will have all the important informations to create the ultimate Subaru Forester Off Road Build
BEFORE STARTING Modifying your Subaru for Off Roading
First things first. I know it's very tempting but before buying off road mods like led bar, alloy rims, roof rack …. GET A PROPER MAINTENANCE!
I mean, change all the fluids, oil, all the filters, change your timing belt if needed, have spark plugs and ignition wires in good condition, good wheel bearing, not stuck brake calipers… And that's just an non-exhaustive list of important mechanical parts to check or change on your old Subaru.
Also, check if your Subaru is not fully rusted like on the rear struts towers, rear quarter panels, subframes… Because if it's the case, it might not be a good base for an off-road build. Except if you want an off-road beater and you don't care about the car's condition (and future).
You NEED Good SUSPENSION on your Subaru for Off Roading
Suspension is gonna have huge role to play while off roading: for performance and comfort. This is what give you a comfortable, safe and efficient ride so don't skip on that. What I recommend is at least OEM like struts and top hats in good conditions and maybe even brand new.. Kayaba (KYB), Pedders and Bilstein provide good quality struts.
Note that pretty often, old Forester have a saggy butt problem because of the self-leveling struts failing. Because of that, the rear of the car is seating really low and the struts bottom out pretty often. So, take care of that.
Also, if you carry a lot of gear on the back like camping gear, recovery gear or a drawer system, Heavy Duty (HD) springs on the back might be a good idea. For that, you can have a look at Pedders or Rallitek.
That being said, I don't recommend raised spring because they are not good for articulation while off roading and also provide a harsh ride.
Another tip: If you have an SF Forester you can directly get SG Forester REAR struts. Indeed, the spring perch is higher and will allow you to fit bigger tires. We are going to talk about off road tires for your Subaru in a few minutes, down below.
If you have a newer Forester, crosstrek or outback, Ironman released a new all terrain suspension which look like stock suspension but actually provide a 2in lift. So, this can be interesting because the kit combines lift kit and good suspension at the same time.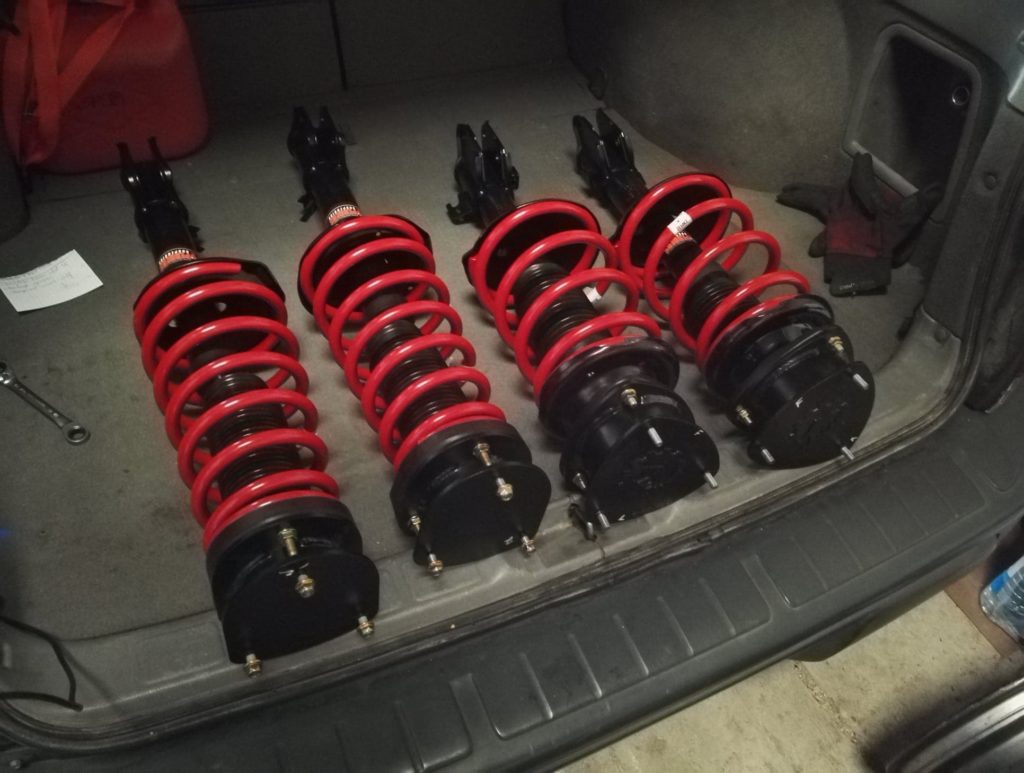 My Pedders struts and springs with my ADF lift kit ready to be installed! After many years, I'm still more than happy with them.
How to Choose your Subaru LIFT KIT for Off Roading?
Speaking about lift, this is something you will need for off roading. A lift will allow you to have more ground clearance, approach and departure angles but also to fit larger tires.
The most common way to lift a Subaru is lift blocks or strut top lift.
A 2in lift is a good compromise for ground clearance and at the same time, not to bad for the CVs. You can go up to 2.5in on the front and 3in on the rear. After that, you will need subframe spacers because the CVs take too much angle. Also don't forget about trailing arm spacer to get your rear wheels centered in the wheel arches.
And just so you know if your goal is to get a 4 or 5in lift (or even more) it will require a lot more work and modifications: steering knuckle extension, Engine, transmission & diff crossmember spacers, brake lines extension and more! So, keep that in mind.
To get a lift kit for your off road Subaru you can check at:
Note that with this kind of lift you will wear your CV boots quicker. BUT they will not fail every 2 weeks like some people say.
If you plan to lift your Subaru with your stock, old CV and CV boots just get 2 spare genuine Subaru CV boots (for the front). Because the old ones generally fail really quick after the lift. But once the new ones are on, you will have some time before they fail.
All the infos for your Subaru Forester Off Road Build in video!
Subaru Forester Off Road TIRES : The MOST IMPORTANT!
Good tires on your Subaru! Trust me, it makes a huge difference in term of traction while off roading and is also an easy way to get more ground clearance.
A tall sidewall is better for off roading BUT bigger doesn't necessarily mean BETTER!
215/75/15 off road tires like the BFG KO2 I run is a good compromise but a 235/75/15 AT tire is also a pretty common size. Note that with this second tire size, it might be more difficult to fit it on the car and they are also heavier, which result in more power loss, lower gas mileage and more stress on the driveline (you can understand more broken CV here)
Good all terrain tires for your off road Subaru are:
I recommend you to check the prices and the weight of the tire to make your choice.
The BFG KO2 might be heavier but the sidewall is so tough that you can off road with your Subaru with a very welcome peace of mind.
I've been using (and abusing) the BF Goodrich KO2 AT tires on my Forester for many years. And I will keep running them!
SKID PLATES : You NEED them for your Off Road Subaru
If you want to go off roading with even more peace of mind, get skid plates. This is a pretty important off road mod for your Subaru, especially with the very exposed oil pan we have. I suggest you to at least get one on the front for the engine oilpan. You can also get one for the rear differential.
They will protect some critical components of your car but also help you slide over rocks or mud if you bottom out.
Mines are from the Sub'Garage, they are 8mm alloy and features rated recovery points and it's a pretty good option for my fellow European off road Subaru enthusiasts.
Others companies offers good quality skid plates like:

Primitive racing

ADF

Rallitek

LP Aventure
Want more? Check these ADVANCED Subaru OFF ROAD MODS:
If you want to go even more hardcore with your Subaru Forester Off Road Build, you can remove your sway bars or install a quick disconnect on your sway bar links. You are gonna have more body roll that's for sure but you will also get more articulation while off roading. And more articulation = more traction. This is exactly what we need with our Subarus. Note that the heavy duty springs mentioned earlier will help reduce that body roll.
For your transmission, a limited slip differential is a good mod for off roading. It act like a "soft locker" and helps you with traction. Also a Driver Controlled Center Differential (DCCD) is a good idea. It's basically a center diff lock and gives you power on front and rear wheels all the time even if you lift a wheel.
You also have the TorQ Locker option. But I would recommend it to you only for a Subaru dedicated for off roading because it can be annoying and noisy on a daily drive. Plus, it's only really useful coupled with a center diff lock.
A low range gearbox or dual range gear box like mine on the SF Forester (available in Oz and in Europe on the manual and non turbo early Subaru) is a huge help to tackle more difficult trails.
For your suspensions, long travel off road coilovers will give you lift and more travel! It's also suspensions you can rebuild and do maintenance on. For that, you can check at Flat out suspension, Gorilla Offroad and Hotbits.
To improve even more your approach and departure angles, an off road bumper for your Subaru Forester is a good idea! And why not go for a custom spare tire carrier for your forester at the same time?
For the weight and look, you can't skip on awesome Subaru forester off road wheels! Especially the alloy ones.
A well known model is the MR502 from Method Race Wheels. You also have Black Rhino, Sparco, Motegi and LP adventure.
What Should you Bring Off Roading? The Essential Off Road Accessories
Beside the typical adventure gear you can have in your Subaru, off roading require more specific gear.
First, recovery gear! You can get recovery boards, a 12v air compressor to air up and air down, a snatch strap properly rated for your car and a shovel …. I actually made a detailed video about recovery gear so I strongly recommend you to check it out!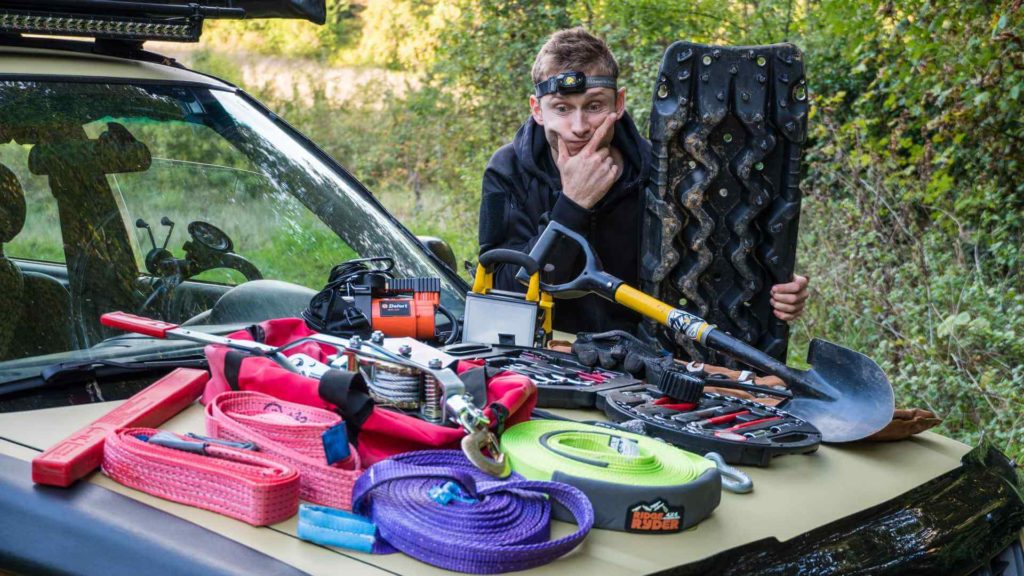 Click the picture to watch my off road recovery gear video!
Also, learn your and your vehicle limits. Remember, even lifted it's just a soccer mom wagon, not a rock crawler. You have some limitations and the lines you are gonna take with your Subaru while off-roading are gonna be way different than with a "real" 4wd truck. Another thing to keep in mind is the weight! it's a big advantage we have with our Subarus. They are pretty lightweight and it really help while off-roading so be careful to not ruin that. Be careful of the weight you put on your roof, your cargo weight and also wheels and tires weight.
For not priority but still really useful off road gear I can mention lights: ditch lights, LED light bar, even rock lights.
You can also organize your Subaru's cargo area with drawers or MOLLE racks. That way, everything is nicely organized and most of all secured while off roading. So, your hatchet won't fly in the car if you take a bump a bit too hard.
Let's Build that Off Road Subaru Now!
With all these tips, off road mods and Subaru specialists brands you should be able to make an awesome Subaru Forester Off Road Build. Or at least a pretty decent one!
And remember, you don't have to buy everything at once! Actually, I think it's even better to start off roading with your Subaru when it's stock. That way you will really learn your vehicle and understand how it works. Then, you will be able to identify what you need to make it more capable the way you like.
If you liked this article and it helped you with your Subaru Off Road build, let me know in the comments! Also, don't hesitate to share it on your favorite social platform!
Loved the article? Share it on your favorite platform!